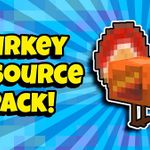 Turkeys by JayCubTruth 1.19.40
Turkeys by JayClubTruth add-on replace chicken with turkeys that look, sound, and move like an actual turkey! You can turn your Minecraft world into a real-life farm!
Information of Turkeys by JayCubTruth
Updated
Compatible with
Android 4.3+
Last version
1.19.40
Size
46 MB
About Turkeys by JayCubTruth
Turkeys have a significant role in the real-world farming industry, and now you can bring them to your Minecraft world with the Turkeys by JayClubTruth add-on Minecraft. This add-on replaces the standard chicken model with a new turkey model that looks and behaves just like an authentic farm animal.
With this add-on, you can enjoy all of the benefits of turkeys in your Minecraft world. You can set up turkey farms, or even customize your existing chicken farms to include turkeys instead of chickens. And thanks to the realistic movement and sounds provided by the add-on, you'll feel like you're living on a real-life farm when playing Minecraft.
Given the significance of Turkey in Thanksgiving celebrations, we can also imagine that some players may be interested in using this add-on to create their own themed Minecraft Thanksgiving world. This will come in handy for players who like to host in-game events and parties, or even for those who simply enjoy the holidays.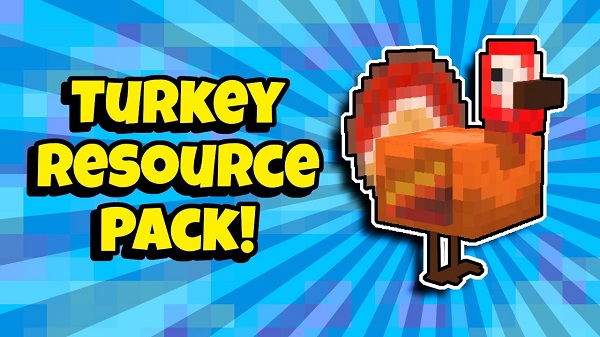 Even better, the turkeys in the Turkeys by JayCubTruth Minecraft PE are highly detailed, with realistic textures and custom sounds. They are slightly larger than chickens, with a distinctive feather pattern and a red wattle on their neck. They also have their distinct turkey eggs, which are slightly larger and more colorful than normal eggs.
When you kill a turkey, it will drop turkey meat instead of chicken meat. This meat can be cooked and eaten just like normal chicken meat but has a slightly different texture and flavor. You can also collect turkey feathers, which can be used for crafting or decoration.
Additionally, the Turkeys by JayCubTruth Minecraft download pack has custom sounds. You can hear the turkeys gobble and call to each other as they roam around your world. This adds a whole new layer of realism and fun to the game, making it more engaging and immersive.
You can also use Turkeys by JayCubTruth Minecraft to customize your game world and make it even more fun to play. You will be the boss of your world, and you can do whatever you like with it.
Overall, this resource Turkeys by JayCubTruth Addon PE pack is an awesome way to add some holiday cheer to your Minecraft world. Whether you are playing in survival mode or creative mode, you will enjoy the added realism and atmosphere that the turkeys bring.
Don't forget to follow Heymods by joining Heymods' Telegam channel. Here you can download, request the best APK games and enjoy many other interesting things