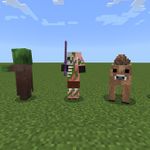 Classic Textures Fix 1.19.30
Are you looking for a way to enjoy classical Minecraft gameplay? Classic Textures Fix Addon PE from Heymods restores the game's originality. It's 100% responsive!
Information of Classic Textures Fix
Updated
Compatible with
Android 4.3+
Last version
1.19.30
Size
21 MB
About Classic Textures Fix
The Classic Textures Fix Minecraft is an excellent add-on for fans of the classic Minecraft game. It replaces the new textures with their original predecessors, bringing back the classic feel and look of your beloved game.
While Mojang offers Classic Texture Pack, it lacks critical features and items, making it less ideal for those looking to play the exact copy of the original game. The Classic Textures Fix Minecraft download is compatible with all popular versions, including Pocket Edition and Java Edition, ensuring you can enjoy a great experience on any platform.
Additionally, the add-ons are designed to be 100% responsive and lag-free, offering hours of seamless gameplay without interruptions or delays. This ensures you focus on your adventures without lag or other technical issues.
Furthermore, the Classic Textures Fix Addon Minecraft offers several enhancements to make your game more exciting. For example, it adds new mobs & items to the game, making it a richer and more immersive experience.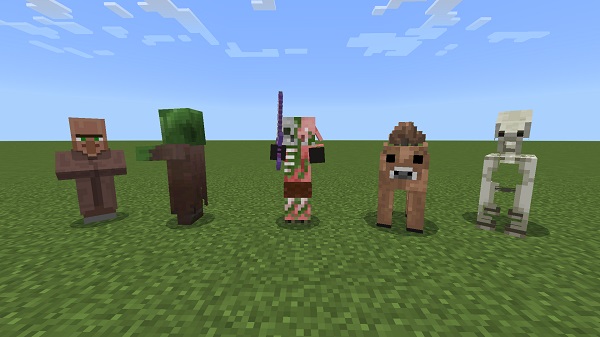 Besides, the Classic Textures Fix Addon PE is lightweight and easy to install, allowing you to enjoy the gameplay right away. Some of its exceptional features are:
Numerous Classic Mobs. The game features a variety of new and improved mobs, each with a unique personality and behavior. They include Vex, Villager, Pillager, Zombie Villager, Iron Golem, Glow Squid, Cat, Brown Mooshroom, and Hoglin/Zoglin.
Diverse Non-Mob Entities. The add-ons include non-mob entities such as Mangrove Boat, All the Horse Armors, All Boats, and Saddle for Striders. These are helpful for users who want to enjoy more varied and dynamic gameplay.
Exciting New Items. The add-on also features new items, such as the All of the Banners, Lava Pads, Phantom Membrane, Shield, and Firework Star/Rocket. These allow you to fully customize your experience and create unique worlds with different biomes.
More Effect Icons. The add-on introduces a new set of effect icons, allowing you to easily see the status and condition of your character in real time. They include Hero of the Village, Conduit Power, Bad Omen, Darkness, and Slow Falling.
Additionally, the Classic Textures Fix Minecraft add new blocks. These enable you to create a different theme and ambiance in your world. Download them and spice up your Minecraft experience today!
Don't forget to follow Heymods by joining Heymods' Telegam channel. Here you can download, request the best APK games and enjoy many other interesting things