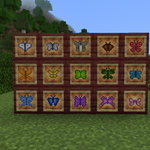 Butterfly Dyes 1.19
Do you love butterflies? If yes, the Butterfly Dyes Addon Minecraft is just what you need! It adds gorgeous butterflies to your world, giving it a beautiful color and a whimsical feel.
Information of Butterfly Dyes
Updated
Compatible with
Android 4.3+
Last version
1.19
Size
30 MB
About Butterfly Dyes
Are you looking for a fun and easy way to add some beauty to your Minecraft world? Look no further than the Butterfly Dyes Addon Minecraft! This add-on adds beautiful, colorful butterflies to your world, instantly giving it a softer feel.
It turns your dyes into butterflies, making it easy to add these beautiful creatures to your world without any hassle. You can also have them in different colors, ensuring you get the perfect look for your Minecraft world.
Even better, adding these butterflies is simple - just use your existing dyes to transform them into beautiful butterflies. It doesn't require any extra or complex setup, making it straightforward & ideal for beginners.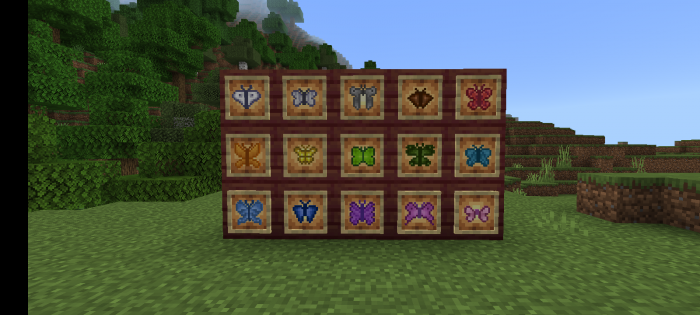 The Butterfly Dyes Minecraft download is flexible, allowing you to add butterflies in different sizes and colors, depending on your preferences. Here are a few available options:
Add Butterflies to Your Inventory. This add-on allows you to add butterflies directly to your inventory, giving you ultimate control over how you want them in your world. Here, you can combine a few dyes to create different types of butterflies.
Add Butterflies in the Daytime. When the sunshine is out, butterflies can be seen fluttering freely across your Minecraft world. Add a beautiful touch to your day with the Butterfly Dyes add-on today!
Add Butterflies in the Nighttime. If you prefer something more magical, try adding these butterflies at night! With this add-on, your world will transform into a fairy wonderland as the bright, colorful butterflies fill the sky.
Even better, Butterfly Dyes Addon PE offers 16+ different butterfly types, giving you the diversity and flexibility you need to get the perfect look for your world. Just select the type of butterfly you like and customize it to your heart's content!
When you download Butterfly Dyes Minecraft from Heymods, you'll be guaranteed a magical experience. The provider vets each MOD for quality and usability, and you can be sure of getting the best MCPE world ever!
Don't forget to follow Heymods by joining Heymods' Telegam channel. Here you can download, request the best APK games and enjoy many other interesting things